The importance of food safety certification in a workplace that handles food is absolutely critical. Food safety certification does not only provide proof that the product itself is safe to use, but also warrants that the business holding this credential has met both the professional and ethical standards to run a business selling food to the public. Your customers should be particular about what they put in their bodies, and they are entitled to request to know that anyone who's serving their food and the establishment itself has passed food safety certification. We're going to take a look at the importance of food safety certification and who is required to have it.
What Does Food Safety Certification Mean?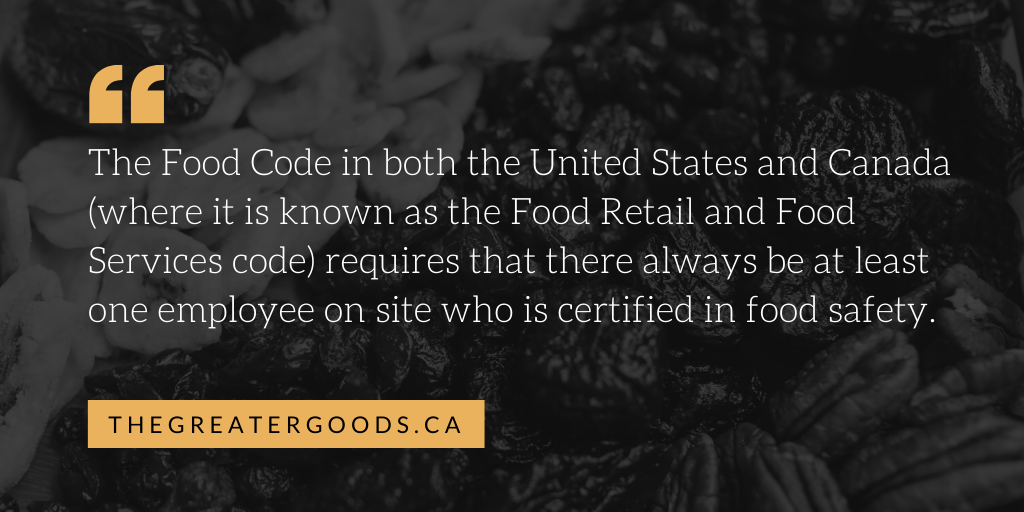 The Food Code in both the United States and Canada (where it is known as the Food Retail and Food Services code) requires that there always be at least one employee on site who is certified in food safety. But what does this actually mean and what's involved in obtaining a food safety certificate?
Kara Lynch of Michigan State University explains more on what obtaining a food safety certification means and why it's necessary for at least one employee on site at any given tie to obtain it:

"Currently, the Food Code states that a person in charge of a foodservice operation become a certified food protection manager. This has been a standard for many years, but what recently changed was that there always needs to be one person certified in safe food handling onsite during hours of operation. This food safety training covers the details of the food code, such as the source of pathogens, the flow of food from purchasing to serving, cleaning and sanitizing and more."
Why Do Businesses Want Or Need Food Safety Certification?
There are a number of reasons why businesses want or need food safety certification. First and foremost, an establishment that sells food is breaking the law in the case that they do not have food safety certification. But secondly, it's truly just bad business to not obtain proper food handling certification when operating a business that the public is trusting to handle their food.
The Global Food Safety Resource tells us the importance behind obtaining food safety certification:

"Food safety certification conveys to consumers and the marketplace, as well as to employees and key stakeholders, that a food sector business has successfully met the requirements of a national or internationally recognized best practice approach. Certification by an objective third party can be invaluable to any business as it signifies good governance and corporate responsibility. With heightened awareness stemming from recent high profile food recalls, consumers are demanding an increase in food safety standards throughout the global supply chain. Those businesses which become certified to a particular food safety scheme will gain a competitive advantage in the marketplace."
Who is Required to Obtain A Food Safety Certificate?
So, is it required for all food handlers to be trained in food safety? Depending on where you live, an establishment may or may not be required to have all of its food handling employees certified in food safety. Your province or territory may require just one of its food handlers to be certified, while others may require all food handling employees to obtain this requirement.
Foodsafety.ca tells us more on who is required to possess a Food Safety Certificate:

"By law, all Food Handlers must be adequately trained in food safety. Depending on your province or territory, Food Handler certification may be a legal requirement. Food Handler certification requirements are set and enforced at a provincial and municipal level. As a food business owner, training manager or general manager, you need to have a clear understanding of specific food safety laws in your province or territory to ensure that the business is adhering to federal, provincial and municipal laws."
At The Greater Goods, we offer consultation services for your business, from food production to distribution. If you're looking for advice on how to get up and running, we offer a free consultation with our expert food industry consultants and food brokers.