With the wants and needs of the domestic and global marketplaces constantly evolving, the future of food co-packing is looking as bright as ever. From making the switch to sustainable, eco-conscious packaging, to a new level of adaptability and speed, it's important that we know what's coming when it comes to this rapidly growing industry. In this article, we take a look at the future of food co-packing, so you can make sure that you're choosing a co-packing partner who is ready to embrace these welcome changes.
Sustainable, Eco-Conscious Packaging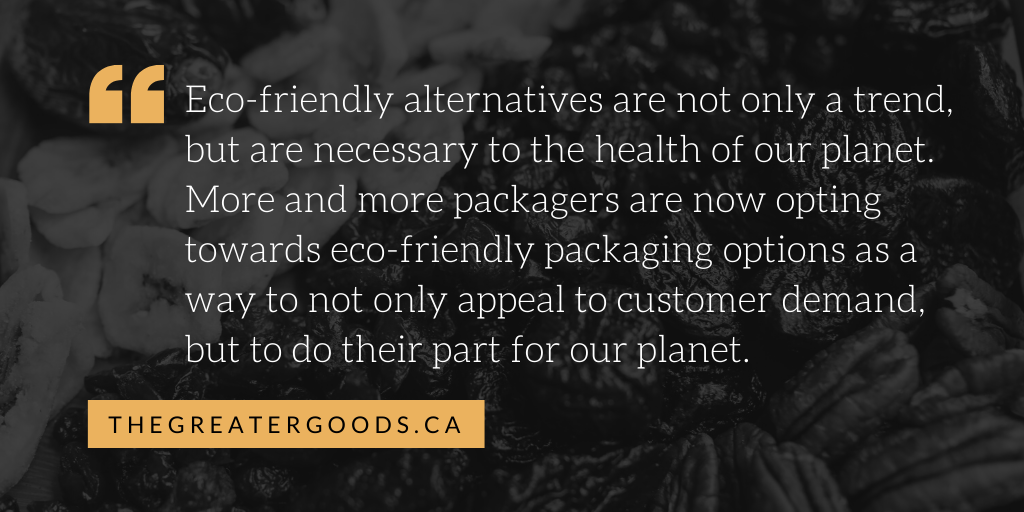 Eco-friendly alternatives are not only a trend, but are necessary to the health of our planet. More and more packagers are now opting towards eco-friendly packaging options as a way to not only appeal to customer demand, but to do their part for our planet.
Globalnewswire.com tells us more about this important switch:

"Raising consumer awareness about environmental concerns, along with the producers' demand for economical packaging options, is impelling contract packagers to adopt earth-friendly alternatives and eco-sensitive package designs."
Adaptability and Speed
If we've learned anything from the COVID-19 pandemic, it's that we need to be prepared for anything – and that level of preparedness also stems to our co-packers. Co-packers who want to stay ahead of the game are making sure that they can adapt to the ever-changing requirements of the industry, so they can keep up with the ever-changing requirements of their partners as new situations arise.
Jason Tham, CEO at Nulogy explains more on why adaptability and speed is more important for co-packers than ever on LinkedIn:

"From CPGs responding to frenetic retailer and consumer demands, to co-packers reworking their operations to ensure the safety of their employees, each side of the supply chain needed to react and move faster than ever before. Businesses that could adapt were able to capitalize on the incredible demand for consumer products during the pandemic."
Packaging That Differentiates Itself
Last but not least, the future of co-packing will focus on packaging that differentiates itself from its competitors. No matter how much love and care has gone into the food product itself, most customers are going to make their decisions based on the first thing they see – the packaging.
WG Pro-Manufacturing tells us more about why focusing on innovative packaging can put both the co-packer and the customer on the track to success:
"The average consumer devotes over 80% of their attention to your packaging, with only 15% going to the number on the price tag. What does this mean for you? Put simply—having the right packaging really matters. One of the most important things is to set your product apart from those around it on the shelf. Sometimes this will mean making the most of well-established trends. In other cases, seeking new and innovative paths will put you on the road to success."
Here at The Greater Goods, we offer consultation services for your business, from food production to distribution. If you're looking for advice on how to get up and running, we offer a free consultation with our expert food industry consultants and food brokers