No matter how long you've been a part of the food industry, you'll know that launching a product in today's highly competitive market is highly competitive. That's why it's necessary to set yourself up for success as much as you possibly can before your product launch. There are many factors that go into a successful food product launch, including the clear establishment of your product's market and how your customers are most likely to buy it. We're going to take a look at our key tips to any successful food product launch, so you can ensure you have all your ducks in a row before you roll out the red carpet.
Research the Market
The most important thing you should do before so much as wishing your product into fruition is researching your target market. Knowing who you're most likely to sell your product to is a key factor in marketing it properly and ensuring its success. Knowing your target market will affect where you sell your product, how you sell it, and even which social media channels you will promote it on.
Max Byer of Business 2 Community tells us why you need to ensure that in order to successfully launch your product, you need to ensure that it's not the same as every other product out there:

"Research the market thoroughly and make sure you have a product that is new and unique that consumers will need or want. Also, research local and state food production and distribution laws to determine an appropriate go-to-market strategy."
Do Plenty of Testing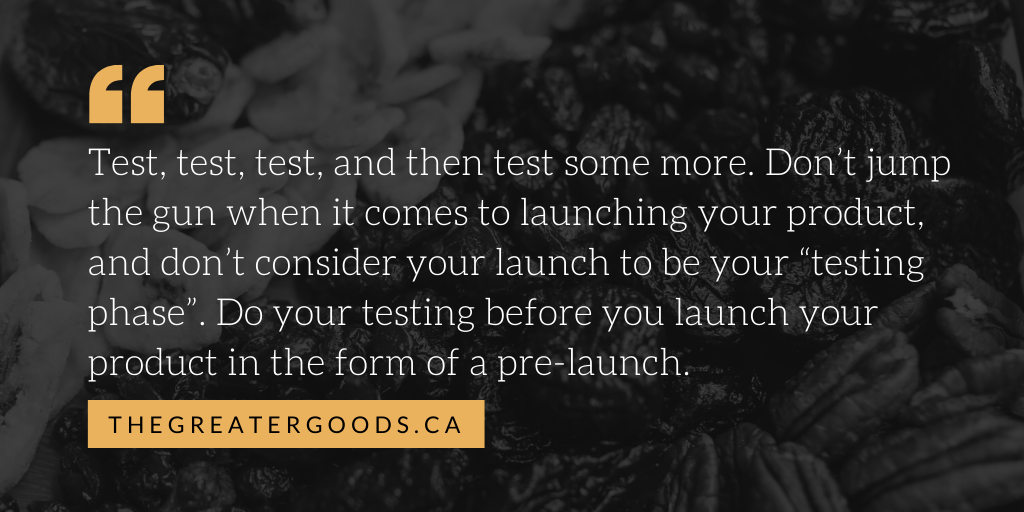 Test, test, test, and then test some more. Don't jump the gun when it comes to launching your product, and don't consider your launch to be your "testing phase". Do your testing before you launch your product in the form of a pre-launch. This will help you understand ahead of time what's working, what's not, and what needs to be changed.
Greg Keating of Hangar12 explains why you need to participate in a pre-launch before you officially launch your food product:

"The money you spend pre-launch learning about specific market segments, gathering information from consumer marketing panels, testing ideas, asking for feedback, and learning which possible variants of your product may be most appealing is small compared to the costs of production, distribution, and advertising once the product goes live. If, for example, multiple consumer panels indicate that your packaging could be problematic, listen to them and determine how you could revise it to better suit target consumers."
Ensure You Have Retail Distribution
Just to make things clear, not everyone will be selling their food products through physical retail stores, as selling products online can be just as beneficial. Whichever the case may be for your business, it's necessary to ensure that you have a place to sell your product before your launch.
Chris Gould of Harbinger tells us why lining up retail distribution before your launch is definitely the best idea:

"Do you have any retail distribution for your product? If not, it may be premature to invest in a big launch strategy. However, if you have an e-commerce platform that has been generating strong sales, there are definitely ways to create additional awareness and inspire new consumers to purchase your product."
Here at The Greater Goods, we offer consultation services for your business, from food production to distribution. If you're looking for advice on how to get up and running, we offer a free consultation with our expert food industry consultants and food brokers.