Bringing your organic food product to the market can be a long and arduous process, filled with challenges. Organic food is more prevalent in the food industry than ever, but there are still rules and regulations to follow when it comes to getting your product certified organic.
If you're trying to get your product an organic certification and are curious on where to start, a food consultant and a food broker can be instrumental in this. Let's break down some fundamental facets your product should have to get that regulation-approved organic certification.
Concentrate on Ingredients
Organic food can be sourced from anywhere, and it can be commonly mistaken with locally-sourced food. However, organic food needs to meet the requirements of how it's grown and treated and not necessarily where it's from.
This means you have a wide range of choice of organic ingredients since you can find them from anywhere in the world. For instance, at The Greater Goods, we worked with a client on sourcing the date sugar for their product and ensuring that each step of the process met organic requirements. 
The USDA defines why organic ingredients should be certified and checked during production: 

"Amidst nutrition facts, ingredients lists, and dietary claims on food packages, 'organic' might appear as one more piece of information to decipher when shopping for foods. So understanding what 'organic' really means can help shoppers make informed choices during their next visit to the store or farmers' market. USDA certified organic foods are grown and processed according to federal guidelines addressing, among many factors, soil quality, animal raising practices, pest and weed control, and use of additives."
Find the Right Suppliers
It can be difficult to source where each of the ingredients in your product is going to come from, since there are a myriad of suppliers that offer a range of ingredients.
This is where a food consultant can come in handy, because their industry connections can help you find the right fit for your product. Suppliers have the raw organic ingredients, and a food consultant can work between the supplier and your company to make sure it's a good fit for your product.
The US-Canada organization Health Care Without Harm points out that effective communication with your suppliers is key: 

"Some suppliers may assert that they would like to provide non-GE versions of their products but that doing so is impractical given their supply chain. It is true that making the changes needed to provide non-GE foods can be complex. Large suppliers offer thousands of products from hundreds of companies, who each in turn use dozens or hundreds of suppliers for raw ingredients."
Work with a Food Broker to Meet Product Demands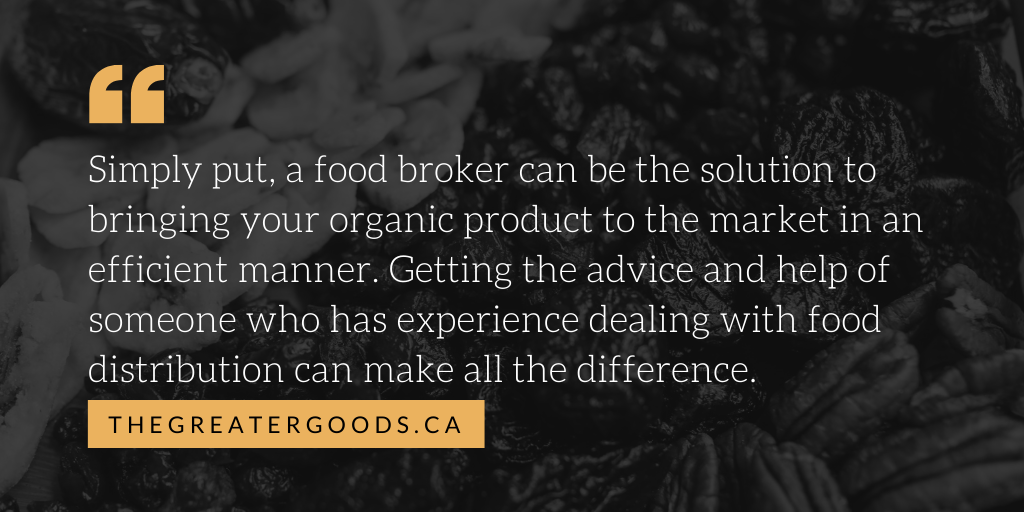 Simply put, a food broker can be the solution to bringing your organic product to the market in an efficient manner. Getting the advice and help of someone who has experience dealing with food distribution can make all the difference.
A food broker knows who to contact, is familiar with each step of the process, and is working specifically for you and your needs. Brokers have often dealt with a variety of companies, from big corporations to small businesses, and they can adapt to product demands.
A food broker is also a great source of information. Make sure you're working with the right food broker that is familiar with organic ingredients and organic products, since you'll want to work with someone who knows the entire process and regulations behind organic food.
Professor John Quelch explains that the demand for local food is steadily growing: 

"As in many other categories, you will see a blend of global and local. There will continue to be a passion and a demand among a minority of consumers for locally produced, farm-to-table food—that trend will continue. The more people who have the disposable income to be able to pay the price differential, and the more informed consumers become, the more that trend will grow."
At The Greater Goods, we specialize in organic food like nuts, nut butters, dried fruits, cocoa and chocolate. Feel free to contact us for a free consultation with our expert food industry consultants and food brokers.