In a time that has slowed down the economy and made millions of people work from home, it seems the food industry has been going strong. Food production is still running since people are still buying food, and this has been great for some businesses.
For others, the food production workload can be quite heavy. And working from home isn't necessarily helping.
This is where a food consultant can come in handy, since they can offer your company assistance and advice to navigate the many challenges of remotely managing food production and distribution.
Here are some tips on how to effectively communicate with a food consultant and maintain a good working relationship online.
Prepare Meeting Notes & Talking Points
Online meetings can really hit the point of being never-ending. This is why it's so important to come to every meeting as prepared as you can be.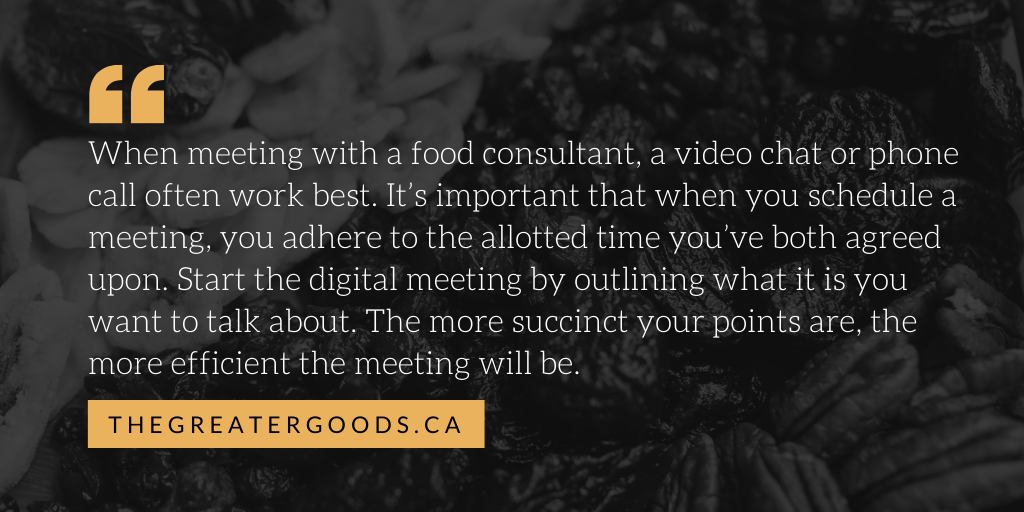 When meeting with a food consultant, a video chat or phone call often work best. It's important that when you schedule a meeting, you adhere to the allotted time you've both agreed upon. Start the digital meeting by outlining what it is you want to talk about. The more succinct your points are, the more efficient the meeting will be.
Here's some great tips as noted by Harvard Business Review at keeping meetings to the point and succinct: 

"Prior to the conversation, set clear objectives, and send a pre-read if appropriate. During the session, use an agenda, set meeting ground rules, take breaks, and clearly outline next steps (including timing and accountabilities) after each section and at the end of the meeting."
Keep It Formal
While working from home has caused things to slow down and loosen up, it's important to keep a professional demeanor when working with anyone in your business. The biggest difference here being that we're all able to access our work emails and business dealings from our home computers.
While it may be tempting to want to check in as much as possible, it's important to keep your correspondence in a business-formal manner. If you want to get ahold of them, send an email, call or leave a voicemail on their business phone. And, book regular meetings with your business consultant as a type of check-in if you want to get updates or advice.
Drew Bowers, a research psychologist provides this helpful tip on how to conduct any meetings you'll have with your food consultant: 

"'We have found that it is best for presenters to either design their data or presentation according to the environment they will be presenting in, or to choose the best environment to represent the data they have.' Bowers says, 'You can't simply take a presentation you gave in front of a live audience at a conference and throw it up on a video monitor for a virtual audience and expect the same results, because you're limited, to a degree, in how you can interact with your virtual audience.'"
Find the Right Consultant That Suits Your Needs
Just because you're not able to meet people in-person, doesn't mean you can't get a good sense of who they are. When you meet with a consultant in a video meeting or phone call, don't be afraid to tell them what it is you're looking to accomplish.
Tell them the goals that you're looking to achieve and what you want your food product or company to be. The food consultant will share their expertise and what their plan of action would be. From there, you can decide if their services are a good fit for your needs.
Gainsight CEO Nick Mehta shares this advice to follow up with any new clients and business partners that you meet with virtually: 

"[Nick Mehta] also advises following up after the meeting with notes, which provide a written source of truth and reassure the customer that you plan to take action. And as an extra thoughtful touch, Mehta suggests sending your clients a gift card to a local restaurant through an online service like Toast as a post-meeting thank-you."
If you're looking for advice on how to get up and running, we offer a free consultation with our expert food industry consultants and food brokers. We specialize in organic ingredients, dried fruit, nuts, nut butter, chocolate and cocoa. Reach out to us if you're interested in our services.