As a food business, making the best possible product is of the utmost importance to you. From sourcing the right ingredients to finding the right manufacturer, there are many key stages to launching a food product.
The big step of getting your product to market could not happen without a food distributor. With a distributor working with your business on transportation, wholesale, and retail opportunities, you can rest assured that a distributor will get your product to the market. If you haven't worked with a food distributor before, here are some tips on how to have a good working relationship.
Be Transparent on Cost
Whatever your food product may be, you should have the cost figured out before you take it to a distributor. Once you meet with them, they will ask for details about your product, like its shelf life, ingredients, whether it's organic, among other things. They will also ask for the cost and factor in the price you'll need to pay the distributor for their services.
Melissa Sonntag at Repsly explains that for your food product process to function with a distributor, the product's price will likely rise:

"Going through a distributor may require you to raise the price of your product or change the way it is produced, so you will need to assess whether or not this would be a good move for your company. If your product now sells for $10 each, but distribution costs would force you to raise it to $17, it is crucial to understand how this will impact your sales and whether your customers will remain loyal following these changes."
Make Your Intentions Clear
There are actually many types of distributors, so it's important to make sure you're working with the right one. An example is a broadline distributor, who carries thousands of shelf-stable food products and transports them to large markets. There are also specialty distributors who only service a smaller food category and provide to a certain niche.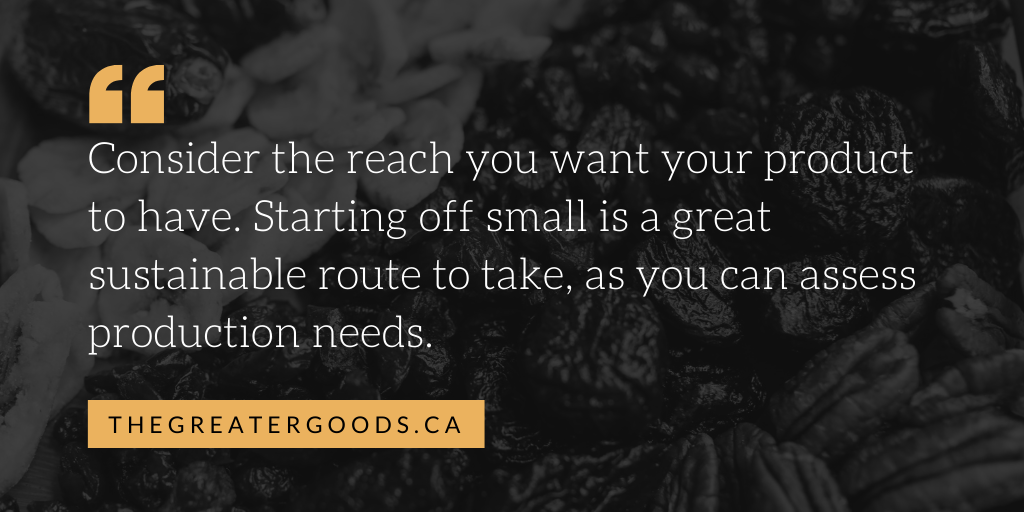 Consider the reach you want your product to have. Starting off small is a great sustainable route to take, as you can assess production needs. Find someone like a cash and carry distributor, who will pick up and purchase your products directly to the business or market it's selling to.
M Source Ideas further expands on the topic of a specialty distributor:

"Specialty distributors focus on a certain type of smaller category than a broadline distributor. For example, a fresh seafood distributor will have the supply chain and food safety skills and infrastructure to provide fresh seafood to seafood restaurants. They will have products that a broadline distributor would not be able to provide. Or a specialty distributor might work exclusively with Middle Eastern restaurants, for example, across a specific region. They would carry the specialized, niche ingredients that chefs at these restaurants would not be able to purchase from a broadline distributor."
Work Out Transportation and Warehousing
Another aspect of your food product distribution is how it will be transported and where it can be stored. Most distributors will have their own warehouse and transportation services, but they'll need to know the shelf life of your product.
Winnesota Transportation explains the warehousing function further:

"Many large distributors operate their own warehouses. Some smaller, more specialized distributors may forego warehousing altogether, transporting fresh products in refrigerated sprinters directly from the producer to the food service operator. It's also common for small, local distributors to procure LTL shipments from larger distributors, using methods like cross-docking to deliver smaller shipments of products to food service operators."
These are just a few of the many things a food distributor can offer your business. If you need help on working with distributors, our expert food industry consultants and food brokers can help you. At The Greater Goods, we specialize in organic food like nuts, nut butters, dried fruits, cocoa and chocolate. Feel free to contact us for a free consultation.