During the age of Covid-19, giving back to your community is as important as ever. As both businesses and consumers, the impact you can make on local business is immense. By just donating some of your time or money, a local business can get through the rough economy and come out of this still standing.
If you're a food business, the need to give back might be as important as ever. Here are some tips on donation or volunteer options available to you as a food business.
Donate to Charities
If there is a particular charitable organization that speaks to your heart, see if you have the funds to donate to it. If you're struggling as a business as well, a great way to still donate to the charity you want is by donating a portion of the proceeds. It's not always important to donate a large sum of money immediately to a charity. To make it a more sustainable practice that you can continue even after the pandemic is over, donate a reasonable amount every month.
The best way to do this for yourself and consumers of your food products is by taking a portion of the proceeds and donating it to a charity. Most consumers actually want to know that their money is going somewhere, so indicate it on your social media or your packaging.
Host a Food Drive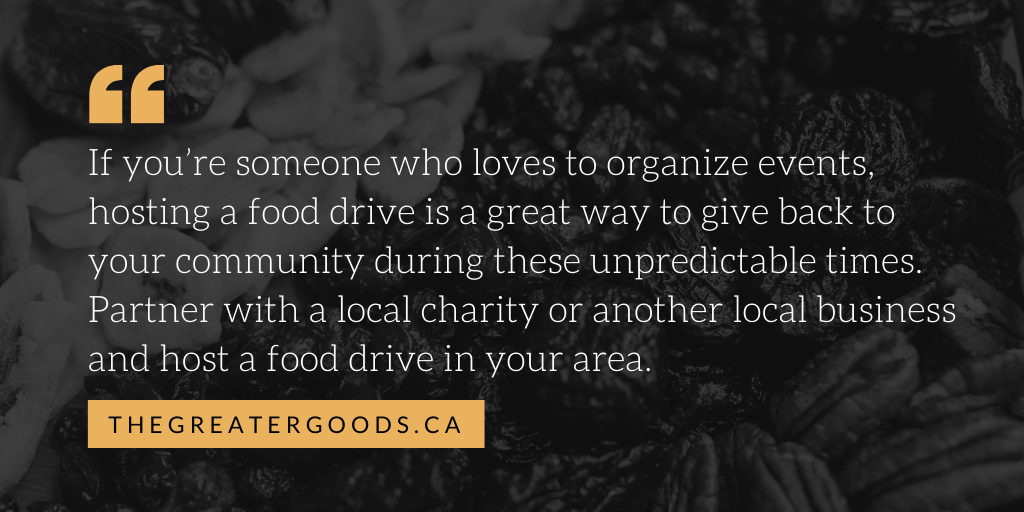 If you're someone who loves to organize events, hosting a food drive is a great way to give back to your community during these unpredictable times. Partner with a local charity or another local business and host a food drive in your area. More than ever, people are volunteering their time to help out, and you'll be surprised at how many volunteers and donations you receive.
As a food business, it can also be a good way to boost your community presence so more people will know about who you are and what you can offer.
AARP has a great tip sheet on how to organize your own food drive. Here, they suggest reaching out to your local food bank to determine what they need:

"Consider both the obvious (food bank and homeless shelter) and the less obvious (faith-based organizations, senior citizen centers, schools). If you want suggestions on food organizations in need, start by contacting your local food bank…Food banks and pantries are all different, so before you start planning, be sure to reach out to learn the best way to meet their needs. Food banks are warehouses that collect large quantities of food to distribute to local food pantries, soup kitchens, etc. The food bank itself may be interested in benefiting from your drive. Or, they may suggest a local food organization in your neighborhood."
Source Food Locally
Sourcing food locally is one of the most effective ways to give back to your community. Ensuring that the ingredients you're putting in your food product are local is important not just to the environment, but to the people in your community. This way, you're putting investment back into local business and supporting yourself and others.
Annie Mueller at Organic Authority suggests that one of the best ways to find organic foods locally is by going to your local farmer's market to establish that first connection:

"Those vendors who are at the farmer's market are often small farmers with additional products to sell all year long. They may raise livestock and sell meat or dairy in addition to the fresh produce you pick up during the summer. Get their names and contact information from the manager of the farmer's market and get on the phone. You'll often get better prices, too, by ordering ahead of time or ordering for a group (get your friends in on this). You're supporting local farmers, getting local food, and getting better prices."
If you're looking for help on where to find the right ingredients, we at The Greater Goods can help. Reach out to us for a free consultation with our expert food industry consultants and food brokers.