A food broker can be that link between getting your food product or your food manufacturing business on the right track to success. If you've never hired a food broker before or you're interested in seeing how to improve your experience with hiring outside consultants, it's important to ask the right questions when you first meet with them. Here's five questions you can ask a food broker in that first consultation meeting.
What previous experience do you have?
This is vital to understanding what kind of business and educational experience the consultant has. Depending on the type of business they've worked with, they'll be able to suit their working style to your needs and goals. Food brokers that work primarily with small businesses are obviously going to be a better fit for a small business consultation than food brokers that focus on big manufacturers.
The HACCP also highlights that previous references and case studies are important to understanding experience: 

"The food safety consultant should provide a list of references or testimonials from food businesses that they have undertaken consultancy work for. It is very important that you contact the reference to obtain a first-hand account of the scope of works that was completed and the food consultant's performance outcome."
What kinds of food have you worked with primarily before?
This adds onto the idea of experience, not only with whom, but with what in the food industry. It makes sense that every type of food and ingredient is handled much differently since it's just significantly different aspects of farming, producing and selling.
Look to hire someone specific to your needs to make sure you're getting advice that works for you. For example, here are The Greater Goods, we specialize in nuts, dried fruits, chocolate, cocoa and organic/non-GMO ingredients and thus have a lot more experience working with those ingredients.
Can you describe your process of working with a business?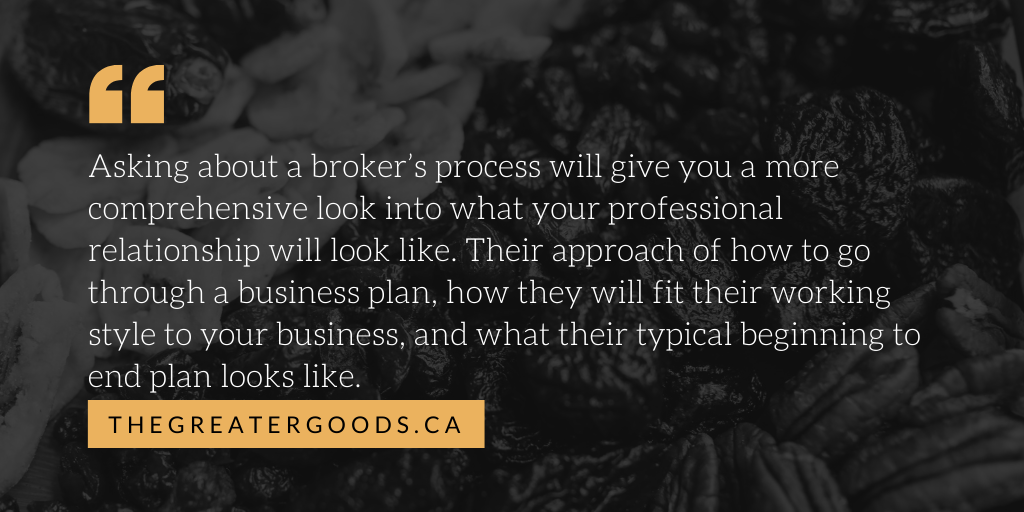 Asking about a broker's process will give you a more comprehensive look into what your professional relationship will look like. Their approach of how to go through a business plan, how they will fit their working style to your business, and what their typical beginning to end plan looks like. Ask them to bring up a previous client's experience if you want to find out more about how they can adjust their work around to fit your needs.
Keap.com expands more on finding a broker to fit your needs: 

"Ensuring you find the right questions to ask a business advisor to help your business grow is a large investment, and even if a consultant or agency is very good that does not automatically mean that they are right for you and your business. With the right questions about both how they think about growing your business and how they work as a person or agency, you can find the right one to help your business and keep you sane at the same time."
Why should we hire you over other food brokers?
This is a more competitive question, but the food industry is naturally competitive and you want to know that whoever you're hiring to help you is just as driven as your business. This is where they can list more of their personal skills, highlighting what it is that makes them stand out over other the competition.
Why are you passionate about connecting with our company and our product?
Whatever answer you get from this ensures that the person you're hiring is genuinely passionate about working with you and getting the best product out there. People who are in the food industry to make food products healthy, accessible and connect with others who are passionate are an ideal candidate.
American Express also explains more on why hiring a passionate consultant is important:

"'A lot of people give more thought to buying an expensive piece of clothing than to hiring a consultant,' says Flaquer, founder of Saltar Solutions, a branding and marketing consultancy in St. Paul, Minnesota. 'They just ask, 'What do you do?' and then hire with little thought. Don't hire someone just like yourself,' she says. 'Bring in someone with different skills who can really help move your business forward.'"
If you're looking for advice on how to get up and running, we offer a free consultation with our expert food industry consultants and food brokers.