It's no secret that when running your own food business, your choice of suppliers can ultimately make or break your business. After all, at the end of the day, without great food and a service to ensure that it's delivered to you when you need it, you have no business. There are several factors that play into choosing the perfect food supplier for your business, that go well past the best price. We're going to take a look at 3 important steps to finding your perfect food supplier that you'll want to consider before committing.
Have a Clear Idea of What You Are Looking For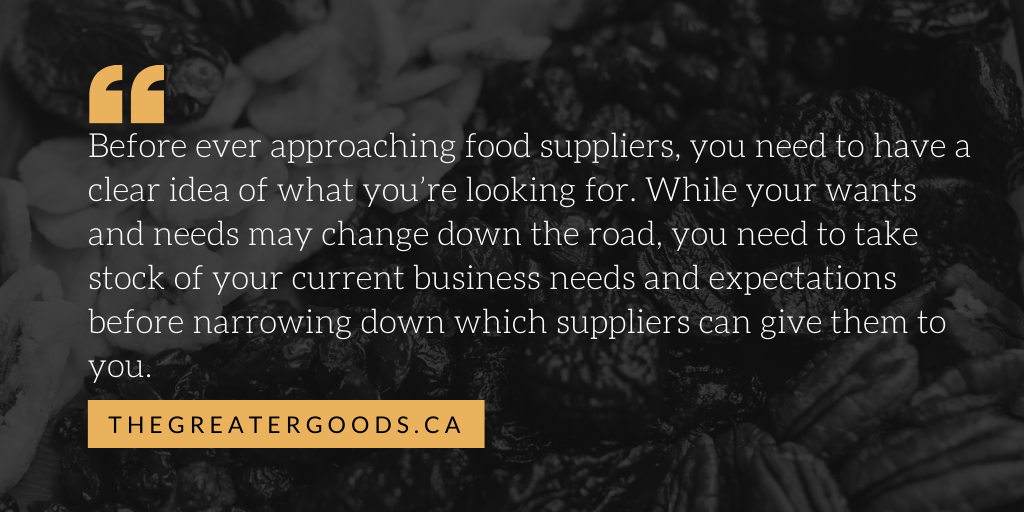 Before ever approaching food suppliers, you need to have a clear idea of what you're looking for. While your wants and needs may change down the road, you need to take stock of your current business needs and expectations before narrowing down which suppliers can give them to you.
Checkit.net gives us their thoughts on what decisions you need to make before you find your perfect food supplier:

"Finding a supplier that fits your business starts with having a well-defined idea of what you're looking for. So before you begin hurling questions at potential suppliers, you need to ask yourself some. Would you like ingredients to be sourced locally? Do you need your supplier to deliver to your premises at certain times? Knowing what you want before you begin searching will save you a lot of time, so it's worth some thought."
Look at Certificates
We cannot stress enough the importance of finding a food supplier who is playing by the rules when it comes to food safety certification. As a business, your first concern always needs to be your customers' safety. With a product as critical as food, you must ensure that what you're serving to your customers is safe. Not only is this important for good business and establishing positive relationships with your customers, but it's also important for ensuring that you don't have a potential future lawsuit on your hands on account of food poisoning.
Small-bizsense.com explains why working with a food supplier who is certified to understand food hygiene rules is an absolute must:

"All businesses working with food should have accreditation confirming they understand food hygiene rules. It's important that you see these to ensure your supplier is encouraging cross-contamination. But, you also need to check in case they have any certificates or awards for their produce. Not having an award doesn't mean they don't provide high-quality food, but, having one does help you to know what you're getting."
Ensure They Have Market Knowledge
Making sure your food supplier has an array of market knowledge can be incredibly important when it comes to growing your own business. Suppliers who truly understand the culinary industry can provide valuable insight into your own business and can give you advice on the value that certain products or ingredients can bring to your business.
Will Harmon on BlueCart tells us why your food supplier should have a wide array of market knowledge on Winnowsolutions.com:

"The right supplier will be able to supply you with much more than products and materials. Suppliers can be vital sources of industry information. This allows them to help you evaluate the potential of adding new items/ingredients to your order list, target new opportunities, and gain competitor insights. Ultimately, this turns a business relationship into a partnership which creates value for both parties involved."
Here at The Greater Goods, we offer consultation services for your business, from food production to distribution. If you're looking for advice on how to get up and running, we offer a free consultation with our expert food industry consultants and food brokers.